Two Things I Must Get Off My Chest
Posted by Trott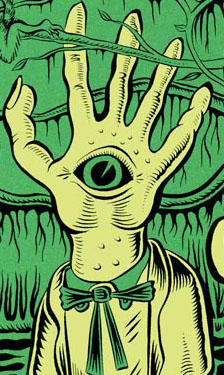 Hooray, Andrew Goldfarb!
A lot has been going on at PFSH HQ but I've been too busy with it all to post about it. Here, however, are two things I must get off my chest!:
There are three new tracks at the Palace Family Steak House MySpace page. I got tired of listening to "Palace Family Steak House" and "Set the Place On Fire" without any bass or guitar, so Anu added some bass, Brad added some guitar, and the tracks are magic again.
The third track added there is our "30-Second Soundcheck Song." I would like to announce our Call For Artists to do artwork for the CD jacket of the 30-Second Soundcheck Single. I want to print up 30 copies of the single, each with different artwork by different artists. Andrew Goldfarb is already on board. I need 29 more.