Wallet Controversy: Back Pocket or Front Pocket?
Posted by Trott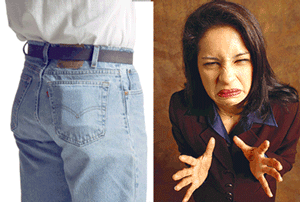 Image lifted from Gridskipper
Front-pocket pros:
No unsightly wallet bulge on your butt-cheek
No warped spine from sitting on your wallet
No cracked credit and ATM cards from the stress of your entire body bending them when you sit
Pickpocket-unfriendly location for your wallet*
Back-pocket pros:
No unsightly wallet bulge on your thigh
Um...
OK, I'm starting to think that my switch from front pocket to back pocket a year or three ago was a mistake. Or was it? Is it, in fact, fashion convention for the wallet to be in the back pocket? Despite the practical drawbacks, does one look like a dork with the wallet in the front pocket?
Of course, I could always go with the off-the-grid option:
Man-purse!
Weigh in on this critical issue in the comments.
* Although the only time I've ever seen someone have their wallet picked from their pocket, it was the front pocket. The victim is a friend of mine and we were boarding a crowded subway train in Prague. He was wearing shorts with front pockets that kind of ballooned open a bit, making it an inviting target for the thief. Our Pat Metheny tickets were in that wallet too!