Your Presence Is Required
Posted by Trott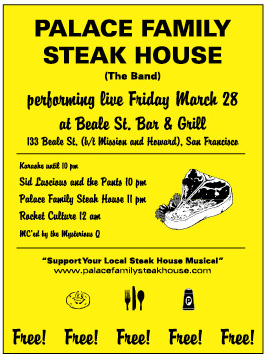 You need to come to our awesome free show this evening in San Francisco because, as always, attendance is mandatory!
We'll be playing at
Beale Street Bar & Grill
at 133 Beale St. between Mission and Howard.
Sid Luscious & the Pants @ 10pm
PFSH @ 11pm
Rocket Culture @ midnight
MC'ed by the Mysterious Q!
Karaoke until 9:30pm!
Tasty grilled cheese sandwiches!
Lots of parking!
Accessible by all sorts of transit--just a block and a half from the Embarcadero BART/Muni Metro station!
Labels: shows