Once More, With Feeling
Posted by Trott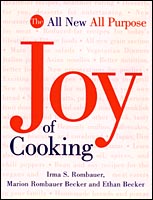 As a going-away gift from my coworkers a couple weeks ago, I received the new edition of
The Joy of Cooking
. I had been working through the previous edition, page-by-page, recipe-by-recipe. I was around page 110, making lots of soups. Now I have to start over again. This is exciting, not least of all because they've reinstated the cocktails section early in the book! It was missing from the edition I had been using.
Come see the Palace Family Steak House band perform at Dolores Park movie night on Thursday and at the Peacock Lounge on Friday!
Here are the details!
Labels: joy of cooking