The, Um, Avalanche Can Stop
Posted by Trott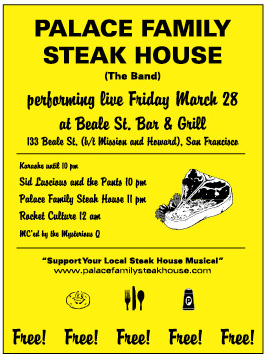 The … um … avalanche … or something … of email demanding that I divulge the location of the March 28 Mystery Show can finally stop.
We'll be playing at
Beale Street Bar & Grill
at 133 Beale St. between Mission and Howard.
Plentiful parking? Check!
Accessible by mass transit? Check!
Karaoke? Check!
For a few more details, read the flyer (courtesy of
Just Visiting
) you see here.