What To Do
About District Two?
Posted by Trott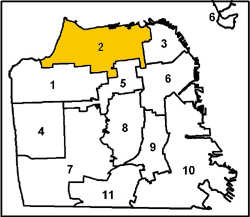 We're making good progress on
our project of trying to have played a show in every supervisorial district in San Francisco by the end of 2007
.
However,
I'm concerned about District 2
.
District 2 contains the affluent neighborhoods of Sea Cliff, Pacific Heights, and the Marina. It is not a district that contains a lot of venues for live original music.
At PFSH HQ, we've been brainstorming about places to play in District 2. Here's what we've come up with so far:
Summer BBQ at Robin Williams's home
A joint book-release and CD-release party at Danielle Steele's home
A $1000-a-plate political fundraiser at Sen. Dianne Feinstein's home
If you have some other ideas for appropriate District 2 venues, please send them our way--especially if it's something that might actually pan out! (Use the comments feature below or the Contact Us link on the right there.)
Labels: district-by-district