PFSH Goes To The Movies
Posted by Trott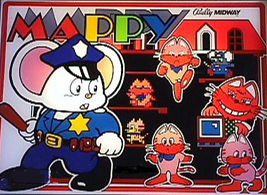 I saw two documentaries yesterday, thus more-or-less catching up on my film-viewing. Here are very brief reviews:
The King of Kong: A Fistful Of Quarters

I know I'm suppose to be engrossed by the drama that unfolds concerning the Donkey Kong champion and the challenger, but I really wanted to see more of the guy who holds the MAPPY record. (In the film, it was spelled in all capital letters like that, I think.) I used to play MAPPY at the local diner where I grew up in New Jersey. I don't know that I've ever met someone as an adult who has played a MAPPY machine.


Wattstax

Who knew there were so many things sampled (or seemingly sampled) from this movie that ended up on Public Enemy's It Takes A Nation Of Millions To Hold Us Back? I thought I recognized at least three:



One of the Bar-Keys quoting "Freedom is a road seldom traveled by the multitude."


The Reverend Jesse Jackson straining his voice to say "Brothers and sisters!"


Rufus Thomas shouting "Wait!" (which seems to be used on "Night of the Living Baseheads" right near the end where the beat stops and Public Enemy seem to imply that it is totally OK to sell drugs to white people).