7 down, 23 to go
Posted by Trott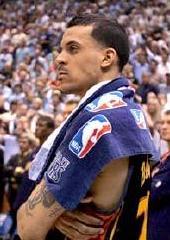 [
UPDATE
: Pleen has offered to do artwork for one of the covers. 8 down, 22 to go.]
Sure, the Warriors are out of the playoffs, but don't despair! We're still in the running for getting 30 visual artists to do 30 different CD case artwork covers for our upcoming
30-Second Soundcheck Single
.
Some people think we are looking for musicians to perform musical covers. We are not. But, hey, go for it! You probably won't have a hard time convincing us to put your version on the single along with ours!
We're looking for visual artists to make cover artwork for the CD. We want 30 different covers so each of the 30 copies we print up of the single will have a unique cover. 30 one-of-a-kind CDs. Why? Why not?
Here are the seven artists who are on board so far:
Andrew Goldfarb
Chip Dalby
Becky Zlotnik & Lily Hawryluk
Hugo Mukkulainen & Max Mukkulainen
Amy Martin
Anu Kirk
Warren Teagarden
If you're an artist, won't you join us?