notes from the underground
Posted by Al Pastor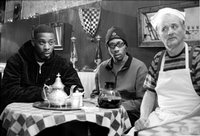 Staying away from the Oaks Club lately. Owning a car has been sucking up most of my gambling money. It's a sucker play I won't be making for much longer. I have been playing online some. A lot to be said for it. It is cheap and the potential payouts are sweet; I can do it in Ritual or at home not wearing pants; I can play HORSE (google it or email me for extrapolation); and it is illegal, which just makes it better. Not that I won't be back at the Oaks Club as soon as I have some bankroll.
And while I haven't been doing as much gambling, I have been doing a little bit of poeting (and prosing for that matter). Here is one.
Send me Preakness picks, and send them fast. I know Street Smarts, but I need exacta picks that are going to pay something. Your Gambling Poet Don't know shit about the ponies, except they sure are pretty.
JARMUSCH, this is not a haiku
Dead Man is his
Citizen Kane
but Stranger Than
Paradise is his
Touch Of Evil.
Labels: gambling poet